HOME / OUR SERVICES / WEB DESIGNING

---
LEADS focuses creating beautiful interactive web designs and developing custom web applications. These core competencies of web design and development are the foundation on which our firm is built. Some clients come to us with thick scope documents and wire-frames, some with existing websites, and others with an idea on some concept. As long as your goal is to build something awesome, we can help.
---
What is a Static Website ?
A static website contains web pages with fixed content. Each page is coded and displays the same information to every visitor. Since static Web pages contain fixed code, the content of each page does not change unless it is manually updated by the developer. This works well for small websites.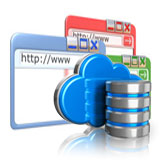 What is a Dynamic Website ?
Dynamic websites contain Web pages that are generated in real-time. Most large websites are dynamic, since they are easier to maintain. Dynamic pages, on the other hand, access information from a database. Therefore, to alter the content of a dynamic page, the Administrator may only need to update a database record.It also makes it possible for multiple users to update the content of a website without editing the layout of the pages. This makes it possible to update several pages at once, and also helps provide a consistent layout throughout the site.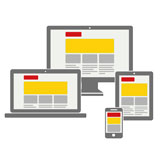 What is a Responsive Website ?
Responsive web design provides a customized viewing experience for different platforms. A Responsive Website will display a different interface depending on what device is used to access the site. For example, a responsive website may appear one way on a laptop, another way on a tablet, and still another way onsmartphone.
Today, many people access websites from mobile devices, rather than desktop computers or laptops. While most smart phones can display regular websites, the content is difficult to read and even harder to navigate. Therefore, many web developers now use responsive web design to provide a better web browsing experience on small screens. Responsive Website is also able to develop by Static & Dynamic